Hey Look! Good Dino toys!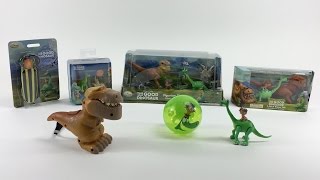 So many toys. Where to begin? It's the little things. Three kinds of mini-figs, a roaring flashlight, a harmonica, some dino-shaped erasers, a wind-up toy, and a bouncing ball. Good news—they all fit into a stocking.
We found Good Dino toys at Target, Toys R Us, Walmart, and the Disney Store. The Disney Store wins for ease and selection with this group of toys. They have a better selection than anywhere else, but Target does have our favorite out of this bunch: the World of Dinosaurs set with 25 tiny plastic dinosaurs. Of course, our daughter likes the noisy harmonica best, and that's at the Disney Store.
Specifically covered in this review:
Stay tuned for more! Check back for more Good Dinosaur reviews to come. Thanks for watching.