The Avengers Age of Ultron Quinjet Moto Launcher is a Quinjet-shaped launcher with Moto Track Stars style motorcycles featuring various Avengers characters. It comes with either 1 or 4 motorcycles, and they are also sold separately.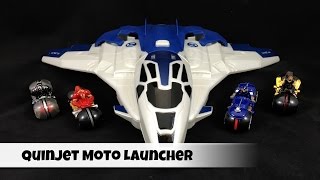 The Moto Track Stars cycles are fun because they roll well and they stay upright no matter what.
The Quinjet launcher isn't great as a launcher, but being a jet with an opening cockpit still gives it some fun value. Plus, you can connect it to Hot Wheels tracks, and basic but more effective launchers are available separately.
Links: