We asked. You answered. Here it is! The next toy review: the Lego Star Wars Millennium Falcon.
We've got three videos for you. The first is a short review of the Millennium Falcon as a toy, fully assembled. It's a huge set—over 1, 300 pieces—and comes with seven mini-figures from The Force Awakens: Rey, Finn, Han Solo, Chewbacca, Tasu Leech, a Kanjiklub gang member, and BB-8. It's almost worth getting the set just to play with a Lego droid.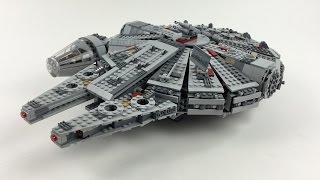 There are also two speed builds. The first one is at 6x speed and includes the step numbers from the Lego assembly instructions. It's useful if you're building it yourself or want to see things step by step.
The last video is a 20x speed build. It's about 8 minutes and meant to be just pure fun.
And if you want to grab a set for yourself, here are links from
LEGO
,
Amazon
, and
Target
. Enjoy!