We're celebrating the new year, and also the milestone of half a million views on our
BB-8 Showdown
video!
Now that we're getting back to work after the holidays, we have lots of toys to look at, and we want to know which ones you want to see. So we're putting it up to a vote.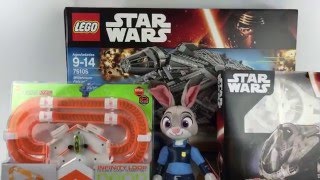 The choices are:
Star Wars Air Hogs Millennium Falcon: We have the small double prop and the larger quad copter versions to compare.
Zootopia plushes: We previously looked at the figurine set; now we've got the Disney Store plushes.
Transformers Masterpiece Tracks and Road Rage: This would be a 2-for-1 video featuring the classic character Tracks, and the lesser known Road Rage, the first female Transformer in the Masterpiece line.
Hexbug Nano: We have a few different Hexbug Nano v2 sets, but we really want to see what other kinds of tracks and environments the bugs can handle.
Leave us your comment here or on the
video
to vote. We look forward to hearing from you!