Here is the LEGO Microfighters Snowspeeder, in a step-by-step speed build video.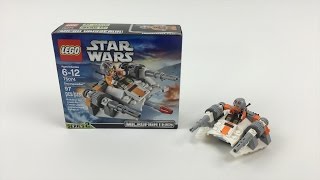 The Microfighters sets are small versions of Star Wars vehicles, somewhat comically undersized compared with the mini figures they're paired with. The Snowspeeder, like many of the others, includes a couple of pressure launch missiles.
This set has 97 pieces, with 18 major steps in the instructions, so it doesn't take long to build. It also has lots of useful and interesting parts that are great for getting creative.
We got it as part of a 3-pack at Costco, which is now hard to find at a decent price. You're better off getting the individual sets, which are about $10 at
Amazon
,
LEGO.com
,
Toys R Us
,
Target
, etc.