Also referred to as "Masterpiece Hot Rod 2.0", MP-28 is the second Masterpiece version of Hot Rod. The first reportedly had some design flaws, which presumably prompted this redo.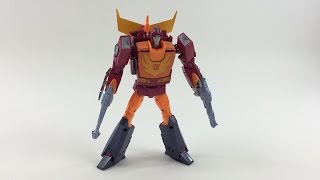 The only significant flaw I found in the new version is that some parts tend to drag on the ground in car mode. Nothing seems particularly fragile, and the transformation only has one or two mildly tricky spots. Poseability is good, including a good range on the ankle tilts. Robot and car modes both look great.
The fishing rod accessory (yes, really), not included with the original Masterpiece Hot Rod, is a fun addition, referencing his intro scene in Transformers: The Movie.
Where to buy (prices as of April 16, 2016):